Through ILE, you will find an interdisciplinary professional society TALE: The Association for Linguistic Evidence. As a professional association, TALE provides a Code of Ethics to which members adhere, an Annual Winter Conference in conjunction with the Linguistic Society of America, and a peer-reviewed journal.   TALE's Honorary Fellows include linguists, criminologists, and intelligence and security analysts whose work exemplifies the ILE paradigm. TALE honors these members of our community because we value their work and believe that they provide examples for us to follow in their footsteps — to uphold scientific standards, to develop reliable and replicable methods, and to meet the needs of the legal and investigative communities in ways that are grounded in the established sciences of linguistics, psychology, and computer science.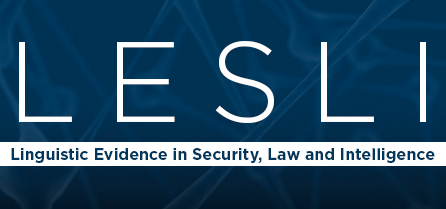 The open access journal LESLI: Linguistic Evidence in Security, Law and Intelligence is published annually for the stakeholders of forensic linguistics. LESLI provides rigorous research articles, stimulating policy discussions, and resource essays.
For lively discussion, join our LinkedIN group Forensic Linguistic Evidence or our Telling TALE: Forensic Linguistics Blog.
Thank you for visiting this site and reading about forensic linguistics — the science of language in support of justice.
—Carole E Chaski, PhD